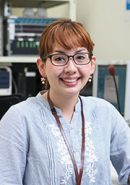 河田 ケルシ― 人美
特任研究員 Projected Researcher Ph.D.



My name is Hitomi Kawata (note professional name: Kelssy Hitomi dos Santos Kawata). I am a 3rd generation of Japanese-Brazilian (nikkeijin) born in Brazil, raised in both countries. Currently I am a postdoctoral at Department of Human Brain Science, Tohoku University, Japan. I have completed my PhD in "A functional magnetic resonance imaging study of the production of proverbs reveals human wisdom" at the Department of Functional Imaging, Tohoku University in Japan.
Previously to my PhD, I have completed my Bachelors degree from Faculty of Philosophy and Science, State of Sao Paulo University, Brazil. Then I've finished my M.Sc. from Department of Behavioral Neurology and Cognitive Neuroscience, Tohoku University Graduate School of Medicine, Japan. The topic of my Master's thesis was " A validation study of the Japanese version of the Addenbrooke's Cognitive Examination-Revised (ACE-R)". Here, I have shown that the Japanese version of the ACE-R is a reliable and valid test for the detection of dementia, similar to the original ACE-R (John Hodges et al., 2006) and other versions adapted for different languages.
From my undergraduate clinical training, I have some experience such as aphasia anomia, apraxia of speech and dyslexia rehabilitation. And from the research field, I got experience in how to differentiate the different types of dementia using neuropsychological tests and MRI – Alzheimer's disease (AD), frontotemporal lobar degeneration (FTLD), dementia with Lewy Bodies (DLB), Parkinson's disease with dementia (PDD), progressive supranuclear palsy (PSP), corticobasal degeneration (CBD) and idiopathic normal-pressure hydrocephalus (iNPH). In relation to the neuroimaging analysis, I've been working with volumetric analysis using Freesurfer and functional analysis using SPM and Matlab. In addition, I've been working in psychological task design software (Presentation and PsychoPy) and SPSS.